The embedded SIM (eSIM) market is projected to increase nearly nine-fold, from a relatively small base of 108.9 million shipments in 2016 to 986 million shipments in 2021. This is according to the latest research from IHS Markit.
So, what will drive growth in the eSIM sector, asks Don Tait, senior analyst, IHS Technology over the next five years?
eSIM happening initially in M2M and tablets
Initially, eSIM shipment growth has been driven by areas such as Machine-to-Machine (M2M) and tablets. Volume growth is expected to jump when eSIM is introduced into the cellular handset and other consumer electronic devices.
The introduction of eSIM appears more attractive in the non-handset environment. Growth also is likely to occur in segments including wearables, consumer electronics and IoT devices, where it can move more quickly because stakeholders do not have to adapt existing legacy processes.
eSIM in the cellular handset?
There has been much hype around eSIM and, specifically, when it finally will be incorporated into the cellular handset. At the time of writing, there are no eSIMs in smartphones with telecom functionality. IHS Markit believes that eSIM has been driven by the GSMA and will finally find its way into smartphones by 2018.
Incorporating eSIM into cellular handsets is likely to happen first with tier-two or tier-three handset suppliers as part of small-scale introductions to test the market.
Tier-one suppliers such as Samsung, Apple and Huawei, are more likely to introduce eSIM in their smartphones in 2019. Once one of the "top three" smartphone suppliers introduces eSIM into its handset models the market is expected to shift, resulting decreased demand for removable SIMs. On the plus side, SIM card integrated circuit (IC) revenues actually may increase because the SIM card IC price in an eSIM is higher than a removable SIM.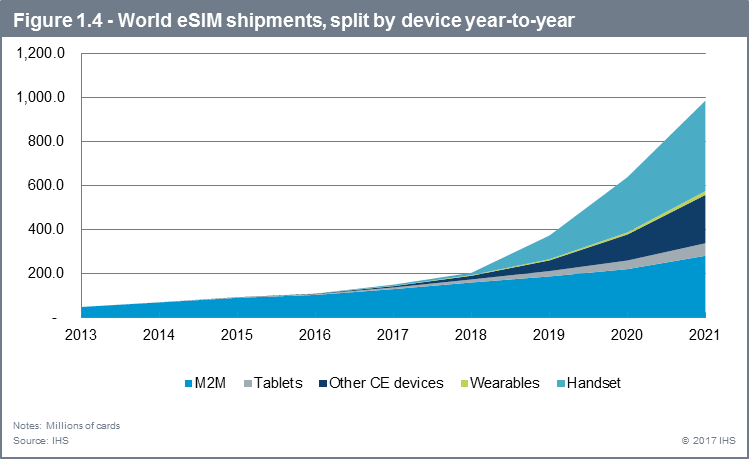 Removable SIM will not disappear overnight
The removable SIM card is not going to die out and be replaced overnight. However, the proportional importance of the removable SIM will decline over time, from 5.4 billion shipments (98.0% of the total) in 2016 to 5.1 billion (83.9% of the total) in 2021.
Benefits of eSIM
The eSIM can have benefits for different stakeholders in the ecosystem:
For consumers, it can lead to lower costs of connected products; an increase in the number of connected devices; and an improved customer experience with greater flexibility.

For MNO's, the eSIM can give rise to new market opportunities in areas such as M2M, IoT and the connected car. It can also lead to the reduction of SIM handling, integration and handling costs.

For SIM card suppliers, there is the opportunity to enter new markets such as IoT, M2M and the connected car, and to reduce physical production costs.
The author of this blog is Don Tait, senior analyst, IHS Technology
Comment on this article below or via Twitter: @IoTNow OR @jcIoTnow