Excellent device management is critical to any Internet of Things (IoT) deployment, says Josh Taubenheim, IoT analyst at the US-based IoT test and research organisation, MachNation. Here he describes the four requirements to consider when choosing an IoT device management vendor.
The IoT device management (DM) space is one of the most important and complex technology areas of the Internet of Things. Enterprises realise that support for IoT devices in a heterogeneous environment enables them to launch new services, create revenue opportunities, and minimise solution support costs.
MachNation, an IoT test and benchmarking lab, has been asked by our enterprise and service provider (SP) clients to evaluate IoT DM offerings. MachNation published the results of this technology and business evaluation in our fourth annual IoT Device Management ScoreCard. This ScoreCard aids enterprise and SP buyers in their selection processes and provides guidelines for the most important characteristics of IoT device management.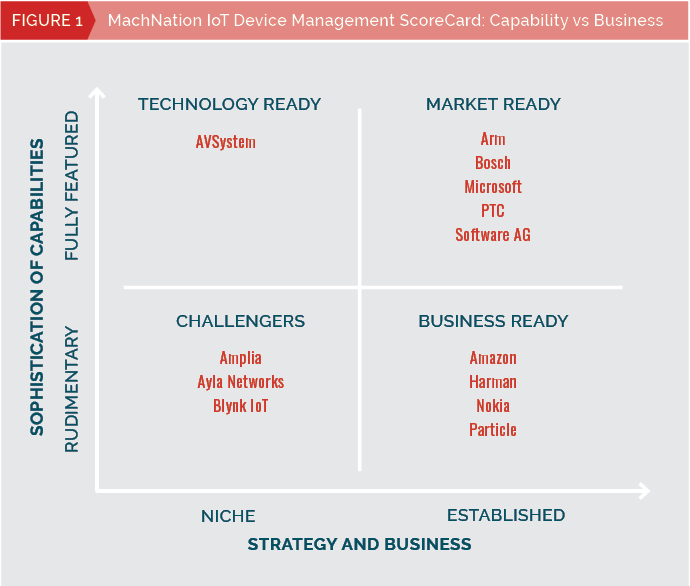 What is an IoT device management platform?

First, let's start with a definition. An IoT device management platform is an offering that provides functionality associated with the deployment and management of IoT assets. Typical IoT assets include IoT gateways, retrofitted and new industrial equipment, and Linux-based devices like Arduinos or Raspberry Pis. Typical DM functionality includes asset provisioning, firmware upgrades, security patching, alerting, and reporting on specific metrics associated with IoT assets. IoT device management platforms are part of an overall IoT solution architecture.
MachNation's ScoreCard includes the following vendors (listed alphabetically): Amazon, Amplia, Arm, AVSystem, Ayla Networks, Blynk IoT, Bosch, Harman, Microsoft, Nokia, Particle, PTC, and Software AG.
MachNation selects a group of participating vendors that adequately represent the diversity of approaches and sizes in this burgeoning IoT DM market. No vendor is charged a fee to participate in any MachNation ScoreCard.
Unique findings show vendors' strengths in technology

There are many ways to classify IoT device management vendors. Based on MachNation's experiences in helping enterprises and SPs pick appropriate IoT DM vendor partners, MachNation has assembled two graphics to visualise the IoT DM vendor ecosystem.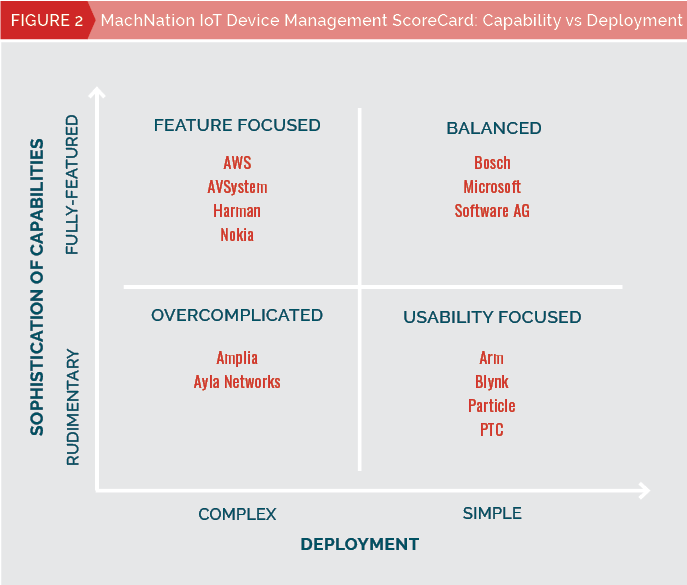 First, MachNation believes it helpful to classify vendors by their relevant business characteristics and IoT DM technology capabilities. (See Figure 1.) This 2×2 matrix helps decision makers understand vendors' positions from a business perspective and the strengths of their DM technology offering. MachNation classifies IoT DM platforms into four buckets: market ready, business ready, technology ready, and challengers.
Second, we believe it is helpful to classify vendors by their relevant capabilities and the relative ease of platform deployment. See Figure 2. This 2×2 matrix helps decision makers understand the completeness of technology provided by each vendor and the robustness of deployment capabilities. MachNation classifies IoT DM platforms into four buckets: balanced platforms, usability focused, feature focused, and overly complex.
Device management platforms are a key IoT enabler and a critically important component in IoT deployments today. Using a DM leads to a faster time to market; ensures a high quality, reliable, secure offering; and enables enterprises to build competitive advantages in their markets.
MachNation suggests that enterprises evaluate DM platforms across four categories: excellent lifecycle management capabilities; a cogent and robust architecture and security model; an easy and efficient integration approach; and a forward-thinking business strategy. (See Figure 3.)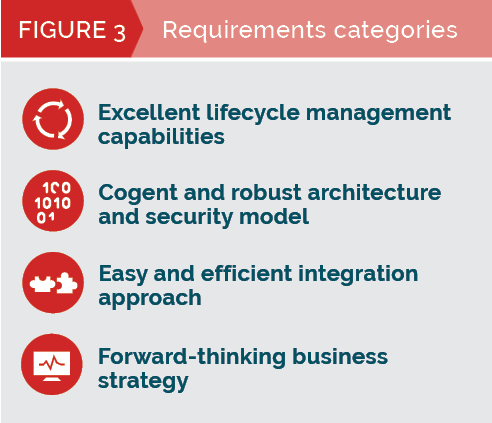 Let's discuss each of these four requirement categories a bit more.
Lifecycle management

Lifecycle management refers to the ability of a DM solution to provide capabilities for common operational tasks relating to the management of devices or gateways. A DM solution must provide capabilities for initial asset rollout such as onboarding or software deployment. It must also provide capabilities for asset configuration and ongoing operational maintenance such as diagnostics, monitoring, and alerting.
An efficient and capable operational management layer is key to providing cost-effective support of connected assets over the course of their service life. MachNation evaluates an IoT DM vendor's lifecycle management functionality in five key areas: software and firmware management; monitoring, alerting and dashboards; bulk device management; diagnostics, logging, and troubleshooting; and remote configuration and remote actions.
Architecture and security
The architecture of a DM platform is crucial to ensure a solution functions effectively at the time of initial deployment, scales to production levels, and affordably serves the customer over the implementation lifetime. A high-quality technical implementation without an excellent underlying DM architecture is an easily made, but inevitably expensive mistake for a customer. MachNation has identified four evaluation criteria for overall DM architecture: security model, productisation, IoT platform performance and scalability, and flexibility of the multi-tenant and multi-customer offering.
Integration

One of the most daunting prospects for any solution provider is choosing an IoT DM platform that integrates efficiently with existing hardware and software assets while also providing a well-defined path for new asset deployments. MachNation believes that an effective DM platform should provide appropriate programmatic and non-programmatic resources to enable integration of managed and unmanaged devices into the platform and to provide the ability to make sensor and machine data available to external systems.
MachNation evaluates an IoT DM vendor's integration functionality in five key areas: platform application program interface (API) capability and extensibility; device software development kit (SDK) and API integration; connectivity management; data-egress capability; and developer usability and IoT UX.
Business strategy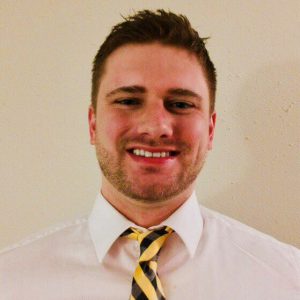 There are several business and strategy characteristics of DM vendors that maximise their chances of market success. MachNation has identified four areas for successful IoT DM business and strategy: the size of the vendor's overall business, the vendor's DM vision, its technology partners, and its business partners.
By following these requirements, enterprises can ensure they are selecting a best-in-class platform for management of IoT devices. By choosing the right, high-quality DM platform, enterprises position themselves for long-term deployment success.
MachNation and its IoT test lab will continue to benchmark IoT platforms and solutions. For more information on MachNation's research initiatives and IoT platform testing services, please contact us on our website or send an email to [email protected].
The author is Josh Taubenheim, IoT analyst at MachNation.
Comment on this article below or via Twitter: @IoTNow_OR @jcIoTnow