Truphone has announced that, in collaboration with Sony Semiconductor Israel Ltd., a cellular IoT chipset provider, and Kigen, a global security provider, it has enabled its IoT platform and global connectivity to run on the integrated SIM of Sony's Altair cellular IoT chipsets, powered by Kigen iSIM OS.
This development will see Truphone significantly expand the reach of its Internet of Things (IoT) connectivity solutions, providing global out-of-the-box connectivity to Sony's Altair cellular IoT chipsets that will enable massive IoT deployment.
Truphone's IoT platform and global connectivity are now integrated with Sony's Altair cellular IoT chipsets. The chipsets currently connect millions of devices, including wearables, vehicle telematics, logistic trackers, home appliances, consumer electronics, and smart utility meters using the integrated SIM technology hardware. This connectivity is securely integrated in Sony's Altair chipsets and the low-footprint of Kigen's highly portable iSIM OS software.
This new solution creates a new paradigm for connecting IoT devices at scale with a completely pre-integrated, secure connectivity solution. It paves the way for new ideas and solutions that were never possible before, due to the cost and complexity of distributing SIMs and negotiating with different network operators around the world.
Truphone says that the collaboration represents another significant milestone in its growth in connecting millions of people and devices globally. The first chipsets to obtain Truphone's connectivity solution are Sony's Altair CAT-M/NB ALT1250 and NB-only ALT1255 cellular IoT chipsets, which are claimed to be the smallest and most feature-rich solution in the industry.
Truphone's multi-IMSI SIM provides Sony Altair's cellular IoT chipsets with access to Truphone's growing global footprint for low power wireless access.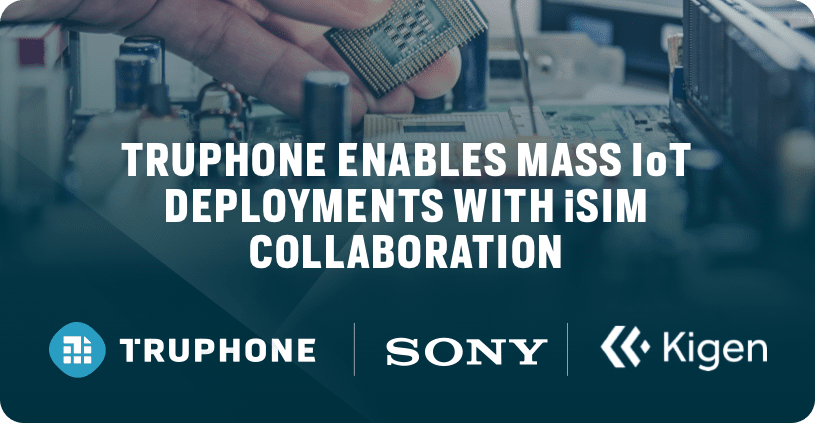 Ralph Steffens, CEO at Truphone says, "This collaboration demonstrates Truphone's strength and leadership in enabling connectivity for IoT. This merging of technologies will create powerful, scalable IoT deployments. We're thrilled to be joining Sony and Kigen in bringing seamless connectivity to a breadth of industries from vehicles to wearables and everything in-between."
Aviv Castro, VP business development at Sony Semiconductor Israel, comments, "Sony is playing a crucial role in the evolution of connected devices and collaborating with Truphone via our integrated SIM enables global connectivity without roaming, which is absolutely vital for large-scale IoT applications. In addition, Truphone provides unique, affordable business models for connectivity, which further encourages the adoption of IoT".
Vincent Korstanje, CEO at Kigen, adds, "Enabling a new model of partnerships for simpler and wider adoption of secure, cellular IoT has been a driver for Kigen that led the vision for the iSIM. This collaboration with Truphone and Sony will simplify and accelerate the journey for OEMs and enterprises for new battery-efficient devices with straightforward, global out-of-the-box connectivity."
Comment on this article below or via Twitter: @IoTNow_OR @jcIoTnow