Midsoft L.T.D., a Turkish Industry 4.0 solutions provider, system integrator and an Actility Solution Partner, is deploying a large IoT project in the Eskisehir Organised Industrial Zone, providing an IoT network to cover a large area of 32 km² and implementing wireless IoT solutions, starting with gas usage monitoring.
The infrastructure will include a private LoRaWAN network based on Actility's ThingPark Enterprise IoT platform, managed as OCP on customer premises.
Midsoft L.T.D. first began operations in the Eskisehir Anadolu Technology Research Park in 2016 and provides specialised IT solutions to companies and sectors. Midsoft specialises in ERP software and Industry 4.0 technologies and works with businesses of all sizes to meet their production process demands.
An OSB is a kind of special economic zone in Turkyie, usually bringing together related industries. Midsoft works with EOSB on this project with the support of the Development Agency Bursa Eskisehir Bilecik Kalkınma Ajansı (BEBKA), establishing together a 'Digital Transformation Centre' to ensure energy efficiency and to accelerate global digital transformation of the site in an integrated manner, uninterrupted service will be provided to companies in KOBI, EOSB as well as companies in EOSB.
Eskisehir Organised Industry Zone is one of the largest industrial cluster in Turkey, hosting over 550 different big and well-established companies, focusing on aviation and railway industries among others.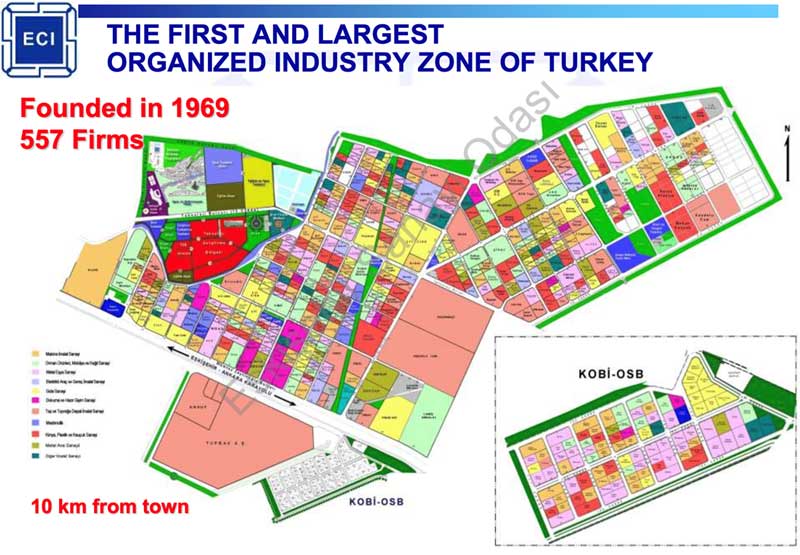 EOIZ also claims to be the most environmentally friendly industrial zone of the country, as it will be one of the first to use natural gas with a dedicated transformation plant supplying cheap, continuous and qualified energy to all hosted companies.
Nadir Kupeli, chairman of the board of directors, and Erhan Tatar, regional manager, are happy to be leading this project. The EOSB-led Digital Transformation Centre project will be in Turkey to encompass a whole industrial sector and will serve as a model for others.
In this project, Midsoft and Acility are solution partners as system builders. With this project, the EOSB Digital Transformation Platform will be established in order to accelerate the digital transformation of industrial organisations, to ensure the dissemination of digital transformation practices in an integrated manner, to lead the determination of digitalisation strategies, and to increase the competitiveness of enterprises.
The first phase of this project will involve full network architecture construction, then monitoring and tracking the gas usage of 100 companies in the industrial area using LoRaWAN-connected devices. The entire region will transform into a massive data factory that creates information in the coming stages, with this EOSB functioning as the data hub.
LoRaWAN technology was selected for this project to ensure a low total cost of ownership, advanced technical attributes, high security, flexible network deployment models, optimisation of battery life and the ability to access a fast-growing ecosystem of other solutions.
The industrial cluster will be able to benefit from LoRaWAN solutions thanks to ThingPark Enterprise, which is specifically designed for enterprises, cities and industries: it's simple, scalable, and easy to operate, and offers a unique low-power IoT communication infrastructure to enable an infinite number of Industry 4.0 IoT use cases. ThingPark Enterprise comes preconfigured with a series of connectors to popular IoT cloud services including AWS, Microsoft Azure, Cumulocity, Thingworx, and many more.
When the project is accomplished, companies will be able to track vehicles and their transported goods on site remotely through connected sensors. They will have the possibility to monitor the operation and production data of their machines remotely as well with the sensors to be placed on their production lines and machines, giving opportunities for training and consultancy services.
"The firms within Eskisehir OSB need a traceable system, from resource management to efficiency improvement, and we are implementing strategies to assure the digital transformation of enterprises in order to fulfill these objectives. Thanks to this IoT facility, we will be able to deliver continuous and prompt service. As a hub for the production and dissemination of information and technology, our top focus is to adapt to rapidly evolving digital technologies and to meet the demands of our companies in this field." says Nadir Kupeli, chairman at EOSB
"Many Industrial sites, and now EOSB leverage connected IoT solutions to improve their operations, reduce their energy footprint and cut down on maintenance costs. LoRaWAN is bringing great value by its flexibility, efficiency and easy deployment. We are happy to be part of this great IoT project with Midsoft and we are looking forward to bringing our best support to make it a full success" says Alper Yegin, VP of advanced technology development, Actility & vice-chair of BoD, chair of technical committee, LoRa Alliance.
"We would like to express our gratitude for their confidence in and selection of Midsoft for this project. With the infrastructure that will be built as part of this project, it will be very easy to receive data from everywhere in the region, speeding up the digital transformation of all regional industrial groups. This initiative, we hope, will bring numerous solutions to our ESOB neighbours and will improve operations." says Taskin Akkurt, general manager at Midsoft LTD.
Comment on this article below or via Twitter: @IoTNow_OR @jcIoTnow