Thalwil, Switzerland – Thomas Seiler is to step down as CEO on 31st December, 2022 after more than 20 years of leading the company. He will remain a member of the board of directors to advise. Stephan Zizala will assume the role of CEO on 1st January, 2023.
The board of directors of u-blox Holding AG, a global provider or wireless and positioning technologies, has appointed Stephan Zizala as the company's new CEO. Zizala will join u-blox on 1st October 2022 and will take over the CEO responsibilities from Thomas Seiler, u-blox's current CEO, who will assist with the transition until his retirement after more than 20 years at the helm of u-blox.
Following his retirement, Seiler will continue to serve as board member of u-blox. He will chair a newly formed strategy committee.
Stephan Zizala is an industry expert with more than 20 years of management and engineering experience focused on microcontroller and power semiconductors as well as global customer experience in the industrial and automotive sectors.
Zizala joins u-blox from Infineon Technologies AG, a provider of semi-conductor solutions. From 2009 to 2014, he managed the Industrial and Multimarket Microcontroller product area and then took over the management of the Automotive High Power business unit, which is responsible for power semiconductors for electric vehicles, among other things. Under Zizala's leadership, this business unit achieved significant growth and claimed a leading market position. He studied and received his doctorate in electrical engineering and information technology at the technical university in Munich.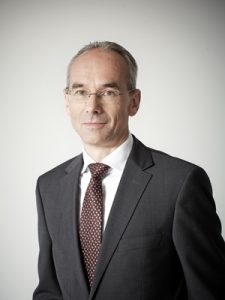 During his 20 the Company into a global provider of wire-less communications technology for positioning and connectivity. Under his leadership, u-blox developed into a global organisation with subsidiaries in 32 countries and 1,300 employees worldwide. With a distinctive solutions' approach for industrial and automotive customers, a global market presence, innovative research and development and an active acquisition strategy, u-blox today is present in all continents and serves more than 12,000 customers worldwide.
"u-blox has become a leading provider of positioning and connectivity technology for the automotive and industrial markets. Given the strong position with all our stakeholders, I consider the timing ideal to now initiate the succession at the top of u-blox. We are pleased to have Stephan, a highly accomplished executive and a proven leader with an extensive experience in semiconductor technology in both the industrial and automotive markets, joining our team. We are grateful for the outstanding leadership Thomas has provided to u-blox over the years. His initiatives and dedicated leadership are the basis of u blox's success and culture. We are grateful that he will continue to support u-blox' strategic development as a member of the board of directors and ensure continuity of the transition at the top," says Andre Muller, chairman of the Board of u-blox.
Comment on this article below or via Twitter: @IoTNow_OR @jcIoTnow