New technologies and the Internet of Things have impacted many sectors, such as retail, manufacturing, healthcare, agriculture and more. Supply Chain though is an industry that is not discussed as much, but it faces many challenges that can be solved with the power of IoT.
The modern supply chain is becoming more complex day by day. Globalisation, tighter product margins, new regulations, security – whatever the challenge, successfully managing the global supply chain in 2018 is more complex than ever.
For the most of the challenges and risks there are IoT solutions which are worthy to be discussed and explored further. A report by IDC and SAP predicts that IoT will lead to a 15% productivity increase in delivery and supply chain performance. Lets see some IoT applications below, says Dimitrios Spiliopoulos.
IoT applications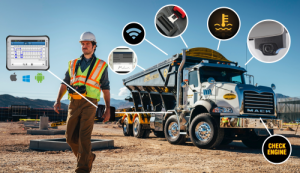 Vehicles face many challenges during driving to their destination that can be solved by an advanced telematic fleet management solution. This is usually a plug and play product that can provide real-time data about the vehicle performance and driver's behaviour.
The benefits of using a solution like this are both operational and financial. Due to the real time data, it is possible to provide periodic and real time recommendations to the drivers so they can change routes and behaviour when necessary.
As a result, the company is able to optimise the fleet, reduce total idle time, save fuel and reduce accidents (by improving driving behaviour). In addition, companies can implement a reward or incentive policy to motivate drivers to achieve specific KPIs.
Thanks to the data from the machine the company can do proactive maintenance so that the repair costs can go down and the hours of use per vehicle up.
Besides, camera technology in the vehicle can be added, so that HD footage of any collision and driving incident is captured and transmitted within moments of it happening. This gives road transport operators increased protection against fraudulent insurance claims, false driving allegations and disputed liability.
Another challenge is that when a truck (or ship) carries perishable goods, such as food, chemicals and pharmaceutical drugs, in some cases they perish in transit. According to the Food and Agriculture Organisation of the United Nations up to one third of food perishes in transit every year.
IoT sensors in the fridge of the vehicle or in a cabinet can exchange real-time data about performance, shocks, temperature, humidity, open-close status of the door and more helping relevant stakeholders to take better decisions and proactively avoid surprises. Similar sensors can be used to monitor the conditions of other products such as medicines, jewellery and others.
Pallets, one of the oldest links in the supply chain, are ready to deliver far more than products. Traditional pallets are wooden, with a limited lifetime and important safety issues. The new durable, reusable pallets made from composite materials can address many of these challenges, but their high cost and the frequent loss are big obstacles for stimulating the widespread adoption of these reusable pallets.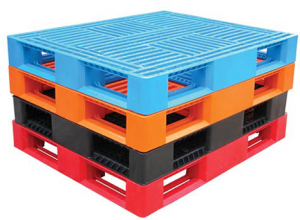 Considering these problems, imagine if you can track your pallets and collect valuable real-time data about their location, temperature, humidity, shocks, arrival/departure and more. This solution already exists and the connected pallet can make the ownership or renting of a reusable connected pallet very worthwhile.
Furthermore, the data that can be collected can give many insights for the manufacturer, the logistics company, the retailer, the insurer and even for the regulators. As a result, new services and business models can be created optimising operations and bringing additional revenues to the right stakeholders.
The pallet as a service which transforms the capital expenditures (CAPEX) of buying a pallet to operational expenditures (OPEX) is able to play a key factor to the modern supply chain, particularly in conjunction with RFID developments.
In the shipping it is already happening to monitor the location of boats and containers, but now at low cost it is also possible to monitor the condition of the container, like the temperature, humidity, shocks, weights (to measure losses) and more.
Intelligent real-time streaming cameras can be added in containers with high value items with high impact on insurance and transparency. As a result, the companies will augment their ability to confirm the condition of a product as it is in-transit, instead of having to rely on testing upon arrival creating delays and disappointing surprises.
The Internet of Things has come also to packaging. Even if it is still early days we see more and more connected bottles or cartons of food, beverage, pharma and more. The connected packages can give useful information to consumers, retailers and manufacturers and help them interact.
For example, information about the condition of the product and its origin can increase transparency and trust between the consumer and the brand. Furthermore, the data that retailers and manufacturers can collect is useful to help them improve their operations, the development of new products and drive better marketing campaigns based on consumer's behaviour.
Thanks to the progress of technology and the very low cost of sensors and connectivity it is possible to monitor even folders of documents (useful when someone sends a very confidential letter for example). These sensors could monitor not only the location, but also the open-close status of the folder in real time.
Connecting the fleet, the pallets and the boxes is great, but something is missing. What about the drivers and the people who do the last mile delivery? Nowadays, there are plenty options to connect employees tracking different features for different purposes, such as safety, productivity and transparency.
For example, measuring worker biometrics/stress/fatigue, broadcasting safety-related data from and to employees using IoT devices can both reduce the number of accidents and increase productivity. Another example, measuring real-time location of the workers and drivers can help optimise logistics by informing them when and where to go instantly, but also can increase transparency among the company, the employee and the client since everything is monitored.
Large corporates already use such sensors (e.g. Amazon, DHL) with useful outcomes. However, all actors should be aware and constantly monitor any privacy issues particularly given recent incidents.
Why are all these IoT solutions possible now?
Power of connectivity and sensors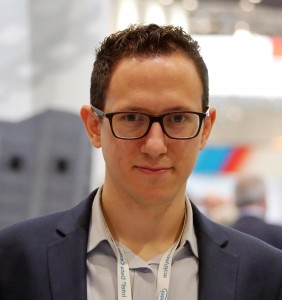 The reasons are many but amongst others, the evolution of new connectivity networks and the decrease of connectivity cost make it possible to develop a fully connected supply chain. The new Low Power Wider Area Networks (LPWAN) such as NB-IoT and LTE-M offer longer battery life, longer and deeper coverage at a very low cost.
We can expect a future with a mixed use of bluetooth, LPWAN, Satellite and 2G (not for long), 3G and 4G connectivity. In addition, the cost of sensors has been decreasing dramatically making it affordable to add sensors in almost everything as well as edge computing power has become significant in offering real-time analytics. Needless to say, RFID is also playing an important part of this revolution, expecting to see more and more companies start using it throughout their supply chain.
The author of this blog is Dimitrios Spiliopoulos
Part 2 continues tomorrow.
About the author:
Dimitrios Spiliopoulos is passionate about the impact of IoT and new technologies on businesses and human lives. He is currently working for the IoT team of O2 (Telefonica UK) in London and he is a mentor of IoT startups, public speaker and writer about IoT subjects. Dimitrios previously worked for the global IoT team of Vodafone.
Comment on this article below or via Twitter: @IoTNow OR @jcIoTnow