The end of 2019 saw industrial giants like Bosch and Siemens announce plans to invest and test their own private 5G networks. The first half of 2020 has seen further announcements as the likes of Ford UK, Lufthansa and Toyota have all announced that they will work with partners to develop their own private 5G networks.
The motivation behind these announcements is simple, says Paul Miller, CTO, Wind River: all these organisations are intent on delivering factories of the future by enabling next-generation manufacturing techniques. 5G will become a key enabler of powerful industrial IoT applications, built on its massive machine capabilities and ultra-reliable low latency communications. But how well known are these technical capabilities and workflow enhancements to global enterprises? And how much interest is there, beyond the initial deployments we've seen announced, from global enterprises to deploy private 5G networks in the future?
Wind River commissioned industry analysts Heavy Reading to create an independent research study, based on the intentions of global enterprises to deploy private 5G networks in the next three years. The study looked to understand how enterprises across industrial and manufacturing sectors perceived 5G and investigated the 5G use cases these organisations would build private networks to enable.
5G needs to prove itself to a few industry doubters
Most enterprises accept that LTE and Wi-Fi are unlikely to be able to support future industrial use cases. The majority believe that 5G is in the driving seat when it comes to delivering the smart factories of the future. That being said, the technology has some convincing to do, with more than half (58%) of enterprises needing proof that 5G is capable of what it promises before they invest. This attitude is supported by the large number of global trials and proof of concepts currently being undertaken by enterprises globally to test the impact 5G can have on their production environments.
Which of the following statements best characterises your view on 5G for industrial use cases, relative to LTE and Wi-Fi?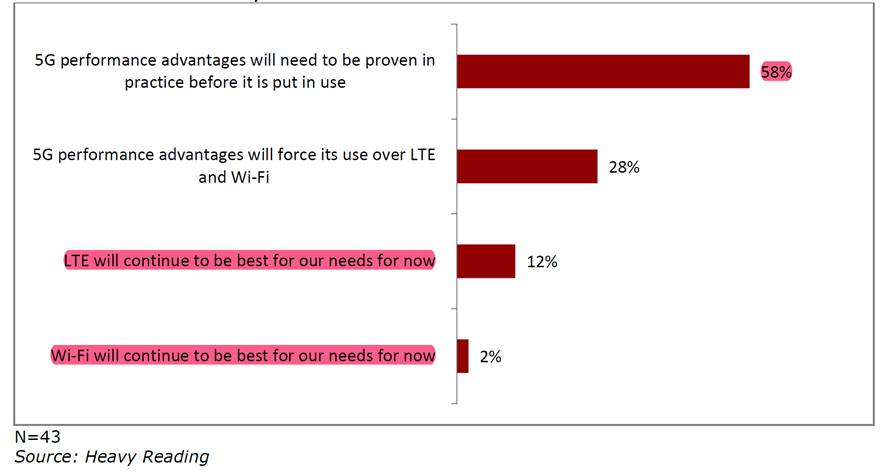 Exciting growth for private 5G networks over the next three years
Although the majority of enterprises still need to be convinced about the capabilities of 5G, there is still significant appetite amongst them to build private networks over the next three years. This window is significant as 3GPP Release 16 is due for standardisation in mid-2020 and contains many important enhancements for industrial and vertical users. In the next three years, there will be sufficient time to integrate these capabilities into vendor solutions, ready to be made commercially available.
Within the next 3 years, how likely is your company to deploy a private 5G network on-premises to support industrial applications?
When asking enterprises about their intentions to deploy their own 5G networks in the next three years, the majority (62%) confessed to being 'very likely' or 'likely' to deploy. In fact, nearly a quarter (24%) confessed to already being in a planning phase.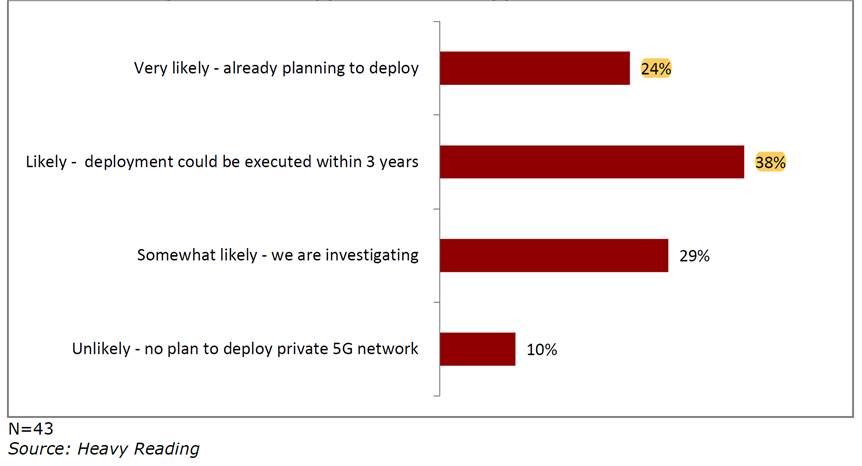 Critical edge cloud infrastructure
The ability to deliver ultra-reliable low latency communications requires the processing power of the 5G network to be placed, as closely as possible, to the applications it enables. This is why enterprises will invest in edge cloud infrastructure when building private 5G networks. Many industrial IoT applications will involve the generation and processing of highly sensitive information which enterprises will not want to see leave their facilities via a public network. In these cases, an edge cloud with local breakout will be needed.
Ensuring network security and responsible data management surrounding industrial 5G applications is critical to global enterprises, and the major reason why they deem it so important to have integrated analytics and monitoring capabilities for their edge cloud infrastructure.
How important is having integrated analytics and monitoring of the edge cloud infrastructure in your industrial 5G network for the following areas?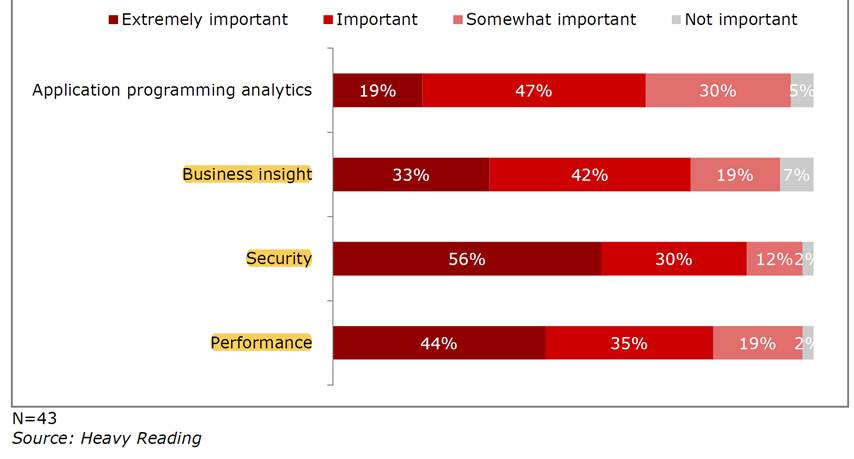 When asked about the importance of various types of embedded edge cloud analytics and monitoring, enterprises believe integrated monitoring is more important to infrastructure than it is to the applications themselves or to deriving business insights. The most important use of integrated analytics and monitoring is for "security" of the edge cloud infrastructure, which is identified as "extremely important" by a majority (56%) of respondents. "Performance" comes second (44%). This implies that the focus for edge vendors and edge implementers should be based on security and optimisation above all else.
Enterprises have clearly set their intentions and expectations for private 5G networks. The majority recognise that 5G is unrivalled when it comes to securely delivering and managing the applications to a standard they expect. 5G performance and reliability requirements demand edge cloud infrastructure, and enterprises demand control over the data that is processed and analysed to ensure the highest levels of security. The ability to monitor and analyse this data is therefore critical in establishing and maintaining the confidence of enterprises in a private 5G edge cloud environment – and therefore critical to the success of private 5G as a whole.
The author is Paul Miller, CTO, Wind River.
Comment on this article below or via Twitter: @IoTNow_OR @jcIoTnow